By Don Sadler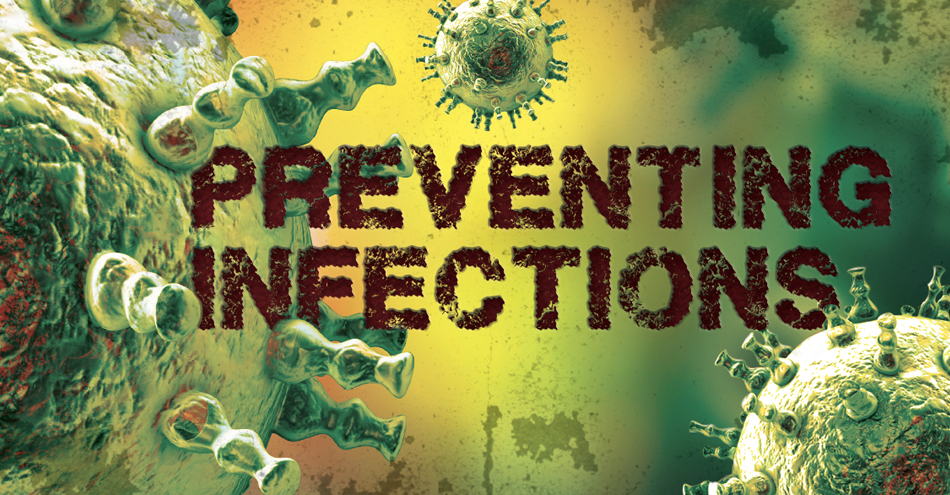 Would it surprise you to learn that as many as one out of every 25 hospital patients has a healthcare-associated infection (HAI) on any given day? It's true, according to the Centers for Disease Control and Prevention (CDC).
Worse yet, HAIs occur in between five and 10 percent of all hospitalized patients – and they claimed the lives of 75,000 hospital patients in 2014.
But infections aren't just dangerous for patients – they're also bad news for hospitals, which lose between $26 billion and $33 billion every year due to HAIs, according to the CDC. Also, patients suffering from surgical site infections (SSIs) typically must stay in the hospital from seven to 11 days longer than those without SSIs.
---
Problems Associated with HAIs
"Although infection control practices have advanced in recent years, SSIs remain a substantial cause of morbidity, prolonged hospitalization and death," says Barb Connell, vice president of clinical services at Medline.
Connell points to a study that determined that SSIs are associated with a mortality rate of 3 percent, while 75 percent of SSI-associated deaths are directly attributable to the SSI.
"HAIs have been shown to increase patient morbidity and mortality, increase the patient's length of stay in the hospital, and ultimately decrease the patient's quality of life," adds Amber Wood, MSN, RN, CNOR, CIC, FAPIC, senior perioperative practice specialist with the Association of periOperative Registered Nurses (AORN).
Wood points out that hospitals are not reimbursed for care related to HAIs.
"Also, their cumulative infection rates determine their reimbursements, or lack thereof, for the fiscal year from CMS," she says.
"And because infection rates are publically reported, having high infection rates can damage the reputation of a health care organization in the public eye, thus affecting their business negatively," Wood adds.
Some Hopeful Signs
Despite these discouraging statistics, there is some good news to report on the infection prevention front. The most recent National and State Healthcare-Associated Infections Progress Report, which was published by the CDC in 2016, reports significant reductions at the national level in 2014 for nearly all infections when compared to the baseline data.
For example, there was a 50 percent reduction in central line-associated bloodstream infections (CLABSI) between 2008 and 2014, according to the report, and a 17 percent decrease in SSIs during this time.
Wood attributes these decreases to better-informed patients due to public reporting about hospital infections.
"More patients are questioning the infection rates at their health care providers and facilities," she says. "Also, there has been more emphasis on prevention and monitoring of HAIs in the health care setting due to accreditation and regulatory oversight."
Wood says that SSIs are the most common type of infection in the OR.
"SSIs could be caused by multiple factors, which makes it difficult to determine the exact cause," she says. "Many infections arise from bacteria on the patient's skin, which may be related to postoperative wound care practices, although research in this area is needed."
Infection Prevention Programs
When it comes to infection prevention, Connell believes that prevention strategies should encompass the entire continuum of care of the surgical procedure: pre-operative, intra-operative and post-operative.
"A lack of standardization and variance in practice can be detrimental to any infection prevention program," she says.
"Utilizing a bundled approach to the prevention of SSIs is gaining acceptance," Connell adds. "The bundle contains broad categories that look at the whole surgical process and have been developed from the current SSI guidelines by various regulatory agencies."
Connell points to the "7 S Bundle" approach to preventing SSIs that was created by Maureen Spencer, RN, M.Ed, a corporate infection preventionist consultant at Universal Health Services, Inc. These seven steps include the following:
Safe operating room practices

Screen for risk factors and MRSA/MSSA

Showers with chlorhexidine

Skin prep with alcohol-based antiseptics

Sutures with an antimicrobial

Solution to irrigate with chlorhexidine

Skin adhesive or antimicrobial dressings to protect incision
"Patients should also be screened for risk factors like MRSA/MSSA ahead of surgery," says Connell. "If the patient currently has an infection, the surgery should be delayed if possible until the infection has resolved."
Pre-op bathing can also help prevent infections, Connell says.
"You should establish pre-op bathing instructions for patients," she says. "However, there are no strong clinical guidelines for pre-op bathing with regard to the best product to use and the frequency of pre-op bathing. This has made it difficult to provide proper guidance to patients."
According to Connell, Medline has developed a unique pre-surgical patient engagement kit that includes the instructions and tools patients need to prepare their body and their minds before a procedure.
"Helping the patient understand what is going to happen from the time of the pre-op visit to after the surgery can help alleviate fears and provide a more satisfying experience," says Connell.
Proper instrument cleaning is also critical to infection prevention.
"The often used statement sums it up best: 'An instrument can be clean without being sterile, but it can't be sterile without being clean,' " says Noreen Costelloe, the marketing manager for Ruhof Healthcare Corp., which manufactures enzymatic detergents and endoscope care and cleaning products
"So first things first: Instruments must be properly cleaned before they can be properly sterilized," adds Costelloe.
She says Ruhof recently launched a number of new products including the CleanStart Bedside Kit, ScopeValet Endo SafeStack, Guardian Disposable Valve Set, and ScopeValet TipGuard. 
Basic and Advanced Steps
Wood outlines a series of basic and advanced techniques that perioperative team members can adopt to help prevent infections.
"Basic techniques include providing the patient with a clean OR environment; adhering to best practices for sterile technique, disinfection and sterilization; wearing clean surgical attire; minimizing OR traffic and door openings; and monitoring OR temperature, humidity and positive air pressure," she says.
As for advanced techniques, Wood also recommends a bundled approach utilizing multiple interventions.
"These are more effective when they're procedure-specific," she says. Bundle elements Wood recommends include the following:
Antibiotic prophylaxis (selection, weight-based dosing, timing, redosing)

Targeted screening and decolonization of Staphylococcus aureus or universal decolonization

Patient bathing

Preoperative nasal treatment and oral rinse with an antiseptic

Preoperative patient warming to maintain normothermia

Maintaining glycemic control for all patients (diabetics and non-diabetics)

Intraoperative use of wound protectors

Use of triclosan-coated suture to close the surgical wound

Increased oxygenation of the patient to improve wound healing
Safe OR Practices
Connell also stresses the importance of safe operating room practices.
"The operating room environment can greatly impact the risk factors for the development of SSIs," she says. "A sterile environment is crucial for preventing infections."
There's often confusion in the OR regarding who is responsible for cleaning what, says Connell.
"So there should be clear, written expectations on cleaning tasks and defined procedures for cleaning and disinfecting spills of blood, body fluid and other infectious substances," she says.
"These procedures should be detailed and written in easy-to-understand language," Connell adds.
Operating room traffic should also be minimized.
"Keep OR doors closed during surgery except as needed for passage of equipment, personnel and the patient," Connell says. "A sign on the door will help remind staff to minimize their traffic into the room during the surgery."
"Of course, performing excellent hand hygiene and following proper aseptic technique remain two of the most effective infection prevention steps," says Wood, who notes that published AORN Guidelines specifically address the prevention of HAIs.
"Hand hygiene is a focal point of infection prevention and remains a top priority of surveyors," says Connell.
She stresses hand hygiene best practices such as providing staff with high-quality products that won't dry out their hands, placing sanitizer dispensers and sinks in convenient places, and educating staff on hand hygiene guidelines.
"Health care facilities can provide in-service training from outside parties or use online education platforms," says Connell. "For example, Medline University offers free courses on basic principles of hand hygiene and improvement strategies at the clinical and administrative levels."
More information about the courses is available at www.medlineuniversity.com.